The new Oticon Opn S™
Enjoy speech understanding on par with normal hearing
Get a full day's power with rechargeable hearing aids
New Oticon Opn S hearing aids help you break free of restrictions and join the conversation in difficult listening environments.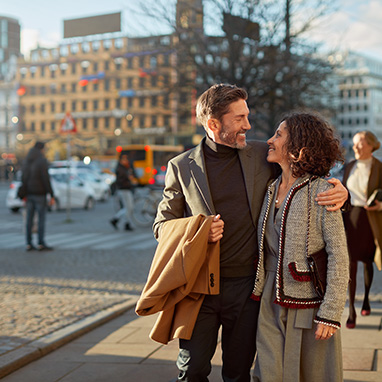 Oticon Opn S comes with improved technology that gives your brain access to the relevant sounds around you.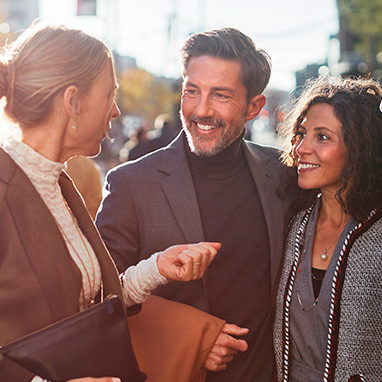 Closing a gap to normal hearing
Studies prove that Oticon Opn S users can experience speech understanding at the same level as people with normal hearing in noisy environments.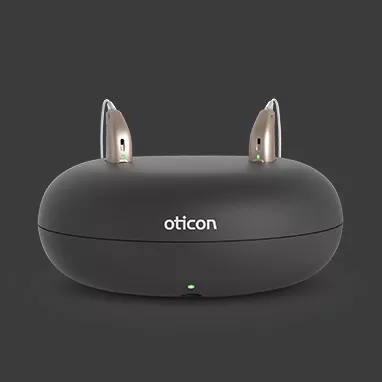 Rechargeable hearing aids
A stylish rechargeable solution that you recharge at night for a full day of hearing.
A ground-breaking feature makes Oticon Opn S able to detect and prevent annoying whistling sounds before they even occur.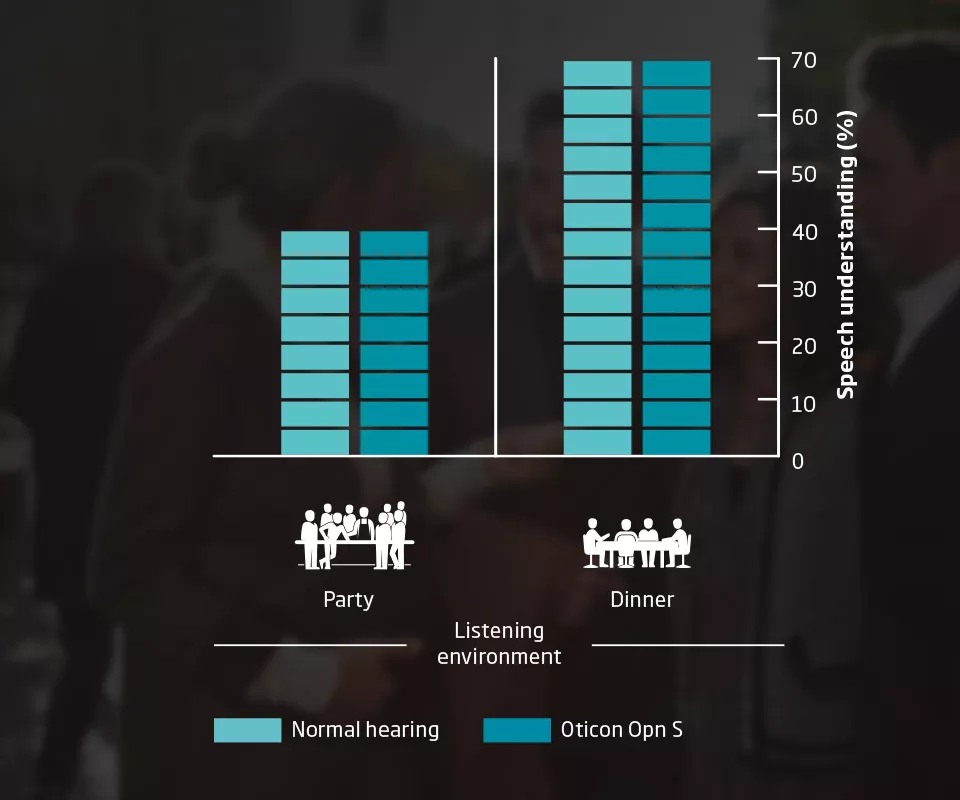 Enjoy speech understanding on par with normal hearing
Oticon's newest hearing aid breaks the limits of what has previously been possible with hearing aids.
Oticon Opn S is proven to give you even better speech understanding with less effort in noisy environments than our previous generation of hearing aids. So now, you can thrive and take active part in difficult listening situations, just like people with normal hearing.*
For people with typical hearing loss and well-fitted hearing aids, in noisy situations
* Juul Jensen 2018, Oticon Whitepaper
Oticon Opn S gives you a 360° sound experience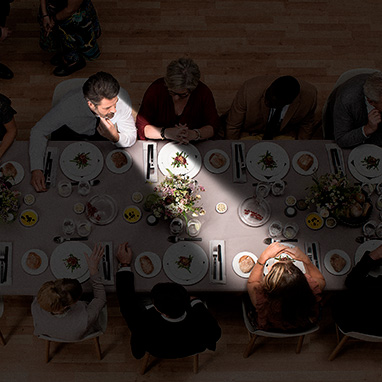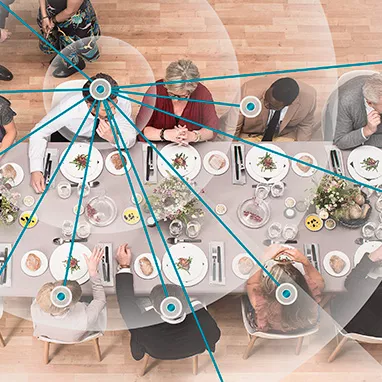 From focus on one to multiple speakers
Groundbreaking technology in Oticon Opn S lets you experience the benefits of a hearing aid that opens up your world.
Previously, most hearing aids coped with noisy environments by focusing on one speaker – typically the one in front of you. Now, the technology in Oticon Opn S gives you access to the relevant sounds around you, including speech, and puts you in charge of which sounds you want to focus on.
The result of this life-changing technology is that you will understand speech even better, with less effort. This lets you join in and keep up with conversations – even in challenging listening environments like a family dinner, or when visiting a restaurant.*
* Juul Jensen 2019, Oticon Whitepaper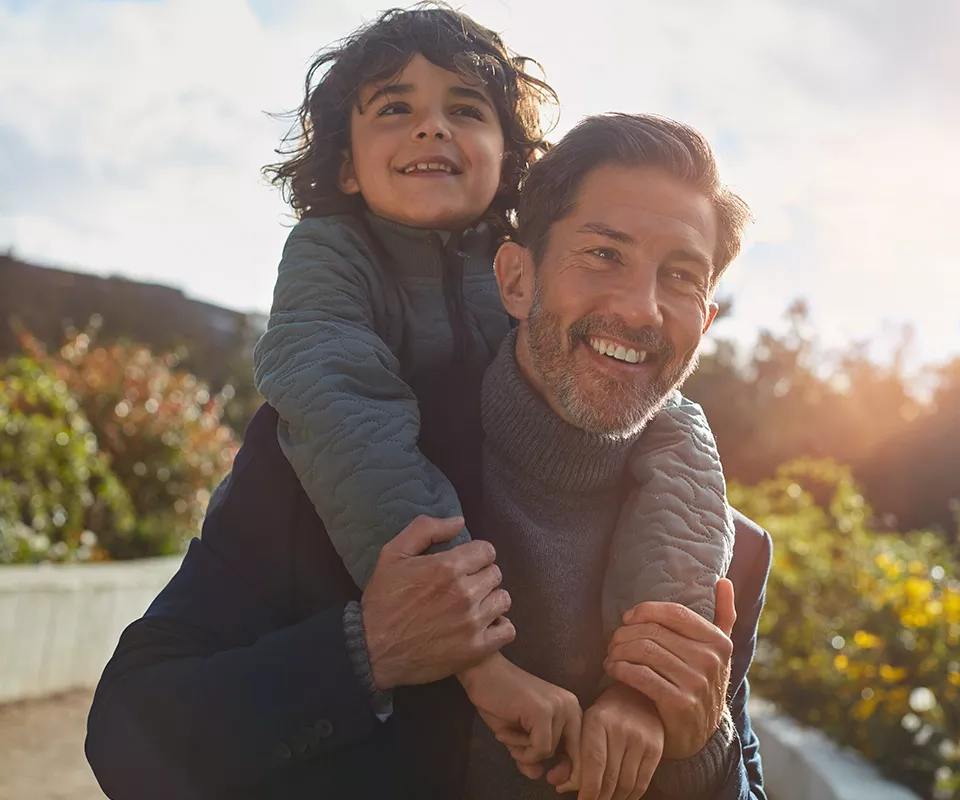 With Oticon Opn S, annoying whistling is a thing of the past
Feedback is an annoying whistle or static noise that occurs when sound from your hearing aids escapes and is reamplified by the hearing aid. It usually happens when something comes close to your hearing aid, like when you hug someone or put your phone to your ear. It's a problem that has been difficult to address – until now.
Breakthrough technology in Oticon Opn S stops feedback even before it occurs. Now you can give someone you love a tight hug, without worrying about whistling sounds from your hearing aids*.
* For prescribed fittings, according to best practice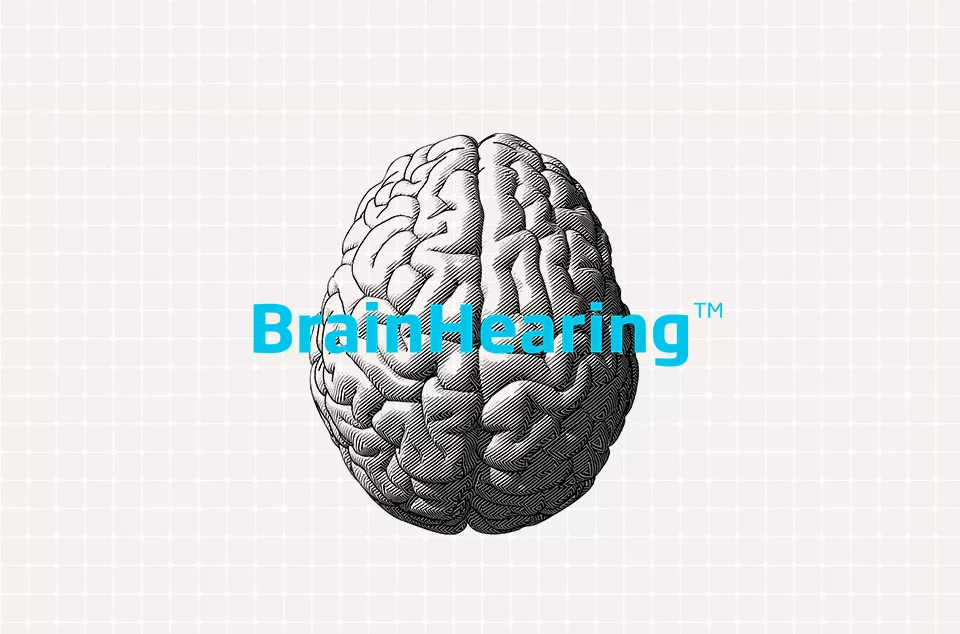 You hear with your brain
You don't hear with your ears, you hear with your brain. That's why you need hearing aids that are fast enough to keep up with the brain. BrainHearing™ technology in Oticon Opn S scans the environment 100 times per second. This gives you constant access to 360° sounds to support the way your brain naturally makes sense of sound.
Oticon Opn S gives you proven BrainHearing benefits*:
Reduces your listening effort
Helps you remember more of what is being said
Gives you better speech understanding
Improves your ability to follow conversations with multiple speakers
* Juul Jensen 2019, Oticon Whitepaper

Easy connection to your phone and other devices
Oticon Opn S is more than a hearing aid. It's a piece of wearable technology that makes it easier to connect to your favourite devices.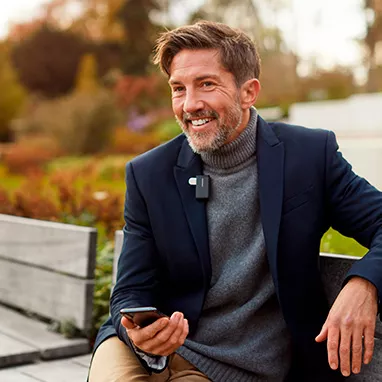 Hands-free phone calls for any modern smartphone
With ConnectClip, it's easy to make hands-free calls with iPhone®, Android™ or any other modern smartphone. ConnectClip transmits the caller's voice to your hearing aids, while the built-in microphone clearly transmits what you say to the caller.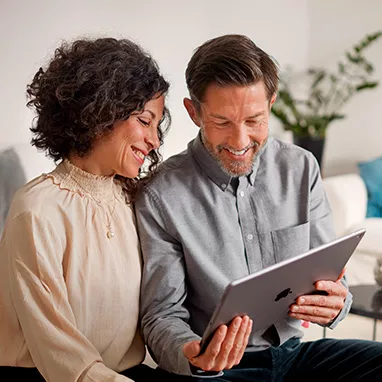 Music in high-quality stereo sound
Your hearing aids become high-quality, wireless headphones, so you can stream music directly from iPhone®, iPad®, or iPod touch®. For any other modern smartphone or Bluetooth®-enabled device you stream using the wireless ConnectClip.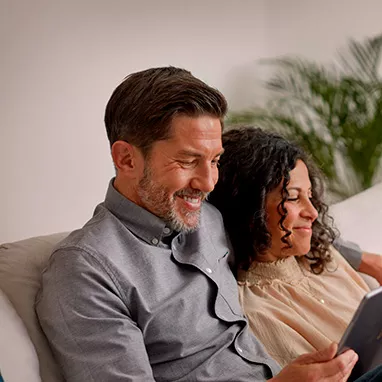 Stream sound from your TV
You get sound from your TV into your hearing aids, using the Oticon TV Adapter.
Apple, the Apple logo, iPhone, iPad, and iPod touch are trademarks of Apple Inc., registered in the U.S. and other countries. App Store is a service mark of Apple Inc. Android, Google Play, and the Google Play logo are trademarks of Google LLC.

A full day's power. Every day.
The discreet miniRITE R style comes with a stylish and reliable charger and long-lasting
rechargeable batteries.
* Lithium-ion battery performance varies depending on hearing loss, lifestyle and streaming behaviour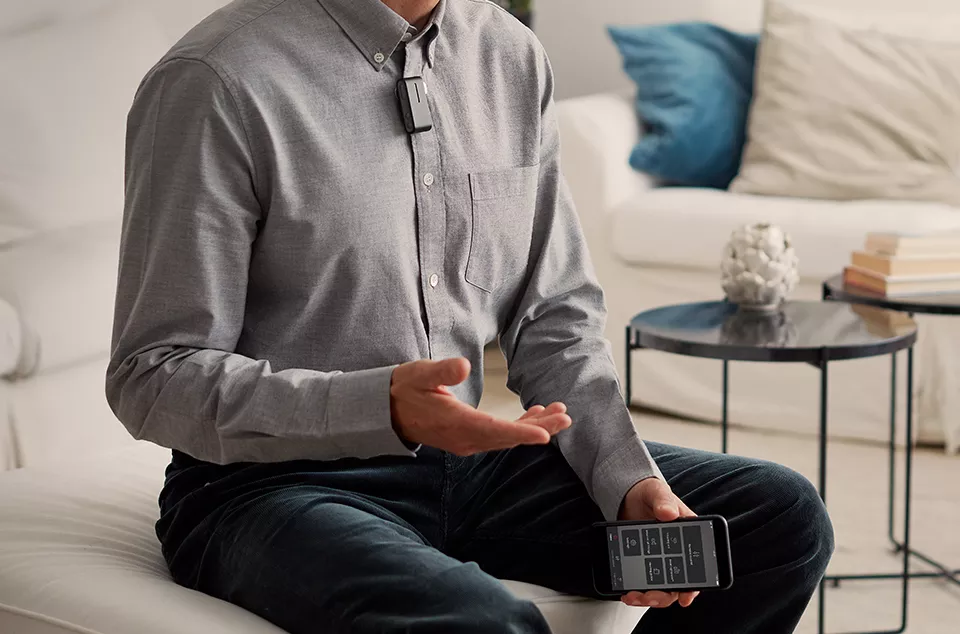 Connect to more experiences with ConnectClip
The ConnectClip is a discreet microphone accessory that connects
wirelessly to Oticon Opn S. This way, you can enjoy the benefits from:
Hands-free calls
Streaming of music, video sound and more
A remote microphone
A remote control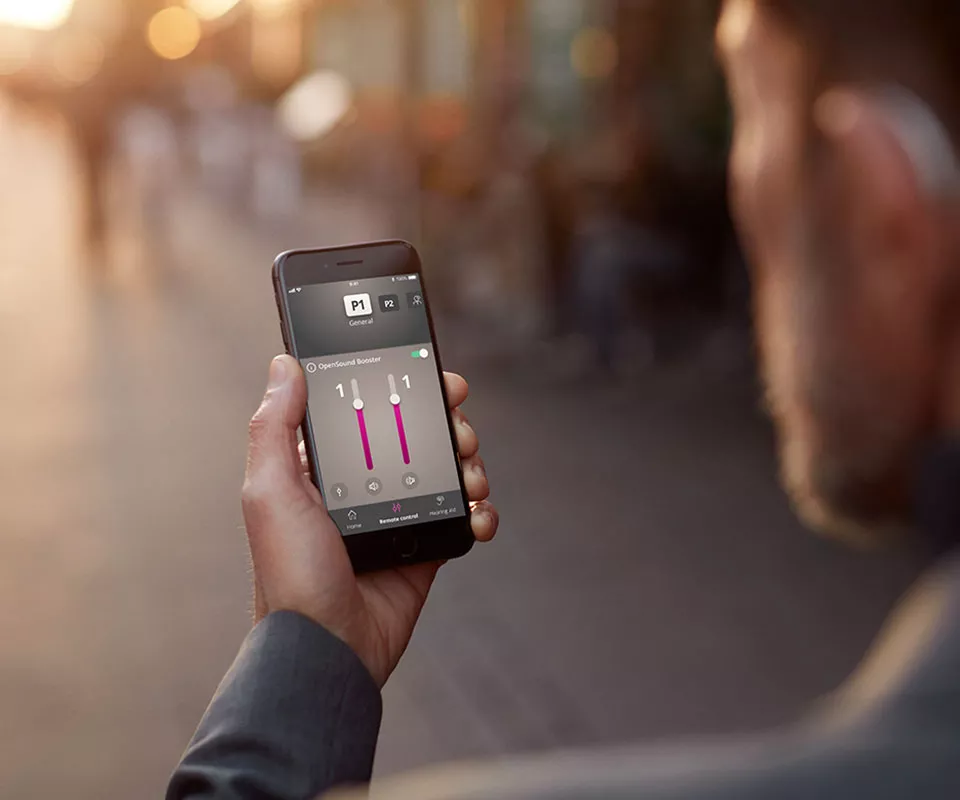 Boost your Oticon OPN S hearing aids with the
Oticon ON App
The Oticon ON App lets you control your hearing aids by adjusting the volume and programme with the tap of a finger. The app makes use of an almost limitless range of connectivity options, and gives access to a number of exciting functionalities:
Extra help when needed
With the new booster function in the Oticon ON App, you can give your hearing aids an extra boost. A great advantage if you're in a situation where you need more help to understand speech better.
Hearing keeps you fit
HearingFitness™ is a new feature in the Oticon ON App. It helps you take greater control of your hearing by showing what you can do to improve it.
Connect to the Internet of Things
At IFTTT.com, you can easily make your own intelligent connections. For example, your hearing aids can let you know when you receive an SMS message, when your battery is low, or when someone rings your doorbell.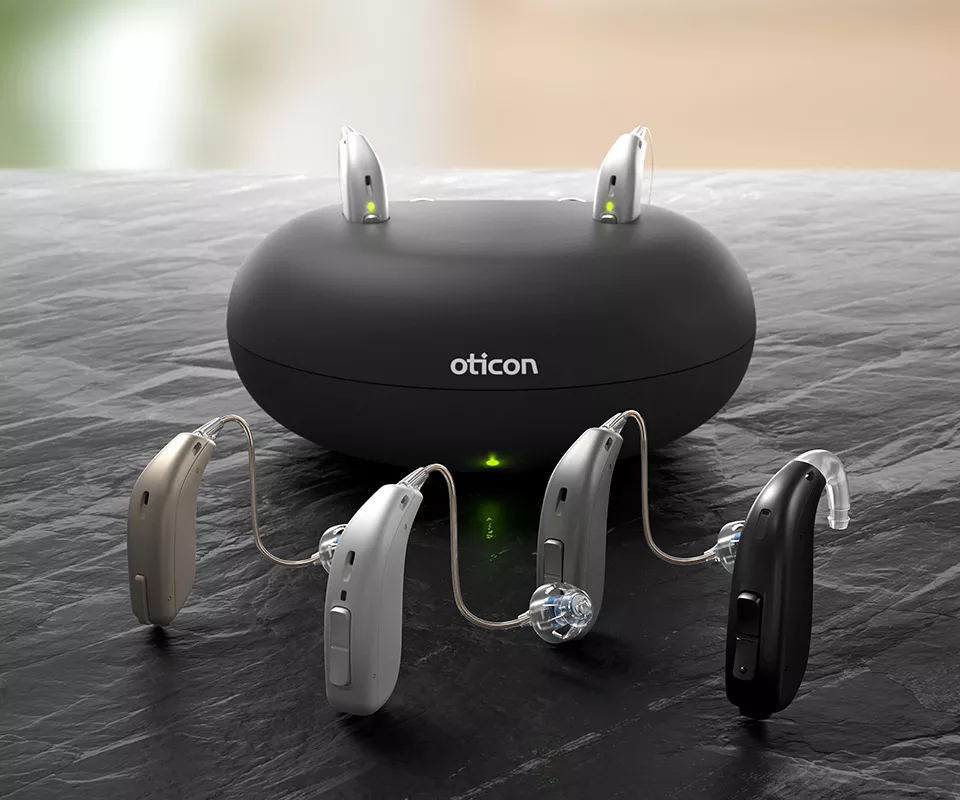 Which colour and style do you prefer?
With the Oticon OPN S, there is a choice of four different hearing aid styles and these are available in a wide range of attractive colours: The small and discreet miniRITE, the rechargeable miniRITE R, the miniRITE T featuring a telecoil, and the very powerful BTE PP.

Enjoy a trial of any of the new Oticon OPN S hearing aids at the Leeds Audiology Clinic. Phone today for more information or to book an appointment.