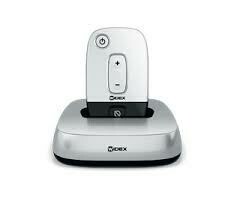 Widex TV DEX
SKU 00012
Product Details
Widex TV DEX. A TV streaming solution to make hearing the television effortless and more enjoyable.
FOR ENJOYING TV
With the TV-DEX you can enjoy distortion-free wireless transmission of TV sound directly to Widex hearing aids, with 10 hrs between recharges.


EXPERIENCE SOUND EXACTLY AS IT WAS INTENDED
The TV-DEX is a user-friendly wireless assistive listening device specifically designed for enjoying TV and audio. The main advantage of the TV-DEX is its real-time high-quality stereo sound. Experience TV or audio sound exactly as it was intended - without annoying distortion or more importantly - echoes.


'ROOM OFF' FUNCTION
Another unique feature of the TV-DEX is the 'Room Off' function. This allows you to temporarily switch the hearing aid's microphone off and hear the TV sound only – meaning you can enjoy your favourite TV programmes without unnecessary background noise. Naturally, you can just as easily switch the 'Room Off' function off again.
The Widex TV DEX is suitable for use with the older Widex hearing aids such as the Beyond, Unique and Dream platforms. For the newer Evoke and Momentum platforms, please see the Widex TV PLAY.

The TV DEX only works with Widex hearing aids and requires pairing by a hearing healthcare professional who may charge for this service.

Save this product for later