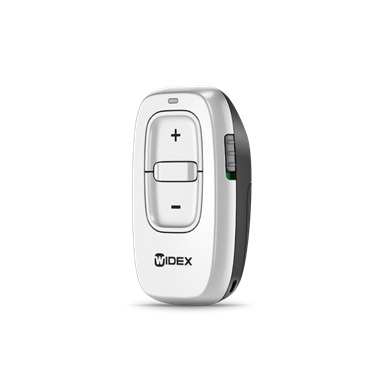 Widex RC-DEX
SKU 00013
Product Details
The Widex RC-DEX is designed for basic wireless remote control of the hearing aids. It offers easy and discreet adjustment of the hearing aid volume and change between programs.
SIMPLE AND INTUITIVE DESIGN
The RC-DEX is a stylish, compact and user-friendly hearing aid remote control. Its simple and intuitive design gives you better control of the basic hearing aid features volume and program shift. This is especially useful for users who do not use the mobile phone apps.


SMALL ENOUGH TO FIT ON A KEYCHAIN
RC-DEX is intelligently laid out with three simple keys and small enough to fit on a keychain. This means that you can quickly and easily start using it. And as features are activated, verbal or tone cues in your hearing aids let you know where you are. An LED indicator on the remote control also shows when it is activated.
Save this product for later