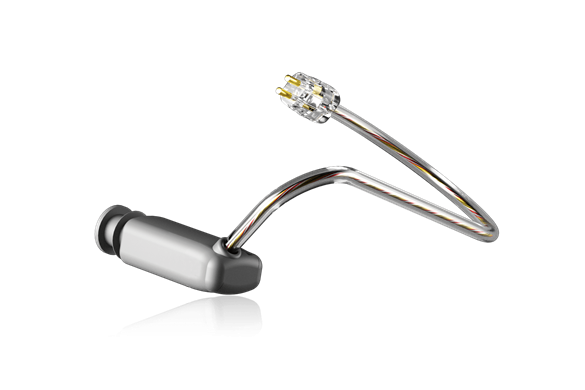 Widex Evoke/Beyond Receiver Wire
SKU 00008
Product Details
Replacement Widex receiver wire (single). For use with Widex EVOKE and BEYOND receiver-in-canal hearing aids.
PLEASE NOTE: THESE WIRES ARE NOT COMPATIBLE WITH THE LATEST WIDEX MOMENT DEVICES
Receiver wires for these devices are a pull-push fitting and can be removed by firmly grasping the old wire where it attaches to the hearing aid, and carefully pulling. Over time, receiver wires can become blocked with wax which has ingressed beyond the wax filter. This can impair the performance of the hearing aid and even stop output altogether.
Receiver wires come in three power levels (S, M and P) and 5 sizes (0 to 4). They are also side specific (left or right), so it is important to order the correct wire as a replacement. The size is marked on the receiver unit itself, near the dome. So, for example, a receiver that has M2L printed on it is a type M, size 2 for the left ear and one that has P3R is a type P, size 3 for the right ear.
Please check before ordering. If you are unsure then please give us a call on 0113 8800190 and speak to our Customer Service team.
Save this product for later