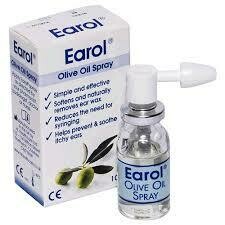 Earol Spray
SKU 00003
Product Details
Earol olive oil spray is an easy but effective method of softening ear wax and comes in a 10ml bottle with pump nozzle dispenser. Each spray delivers a metered amount of olive oil into the ear canal.
Earol is used by many ENT Departments and Practice Nurses and is the only wax softening product we use in our clinic.
This product can be used as a preventative method of keeping ear canals clear when used weekly/fortnightly.
Save this product for later